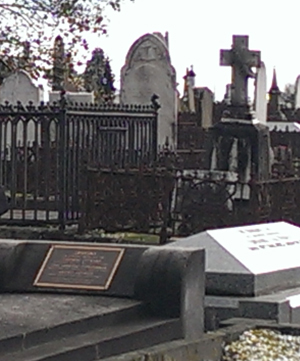 Tracing family history is one of the fastest growing interests in Australia, with more people than ever using online records to discover elusive relatives. Sites such as Ancestry and Trove are now making this process easier than ever but for many, the records are just the beginning. In Australia, genealogy tourism is seeing a renaissance as more people plan their holidays to include places surrounding their ancestral stories. Going beyond a series of names and dates - actually walking in the footsteps of those that came before us, is now within everyone's reach.
Plan ahead
When planning a trip, a good place to start is at the local cemetery. Do your homework first. Many City Councils now embrace the tourism attraction of their local cemeteries and have placed their burial records online. In many cases these records are fully searchable by last name and/or date of death and a search may also uncover other relatives resting within the same cemetery. Typically, an ancestor will be buried near their last place of residence and often alongside or nearby other family members. Remember, it is customary to place a small token like a simple flower or personal note on a gravesite you have visited so have something on hand when you travel.
Next, check to see if there is a local history centre in the area. Note the opening times and plan your visit to coincide. Here you will find a wealth of information and there's nothing like meeting a local historian who may be able to provide more insight into what life was like for your relatives "back in the day". Many history groups hold a vast array of records and published books etc, some that you can buy and take with you. Ask if there is a pioneer register or if they have any information on other research that may have been done on your ancestors.
Also look for local events. A call ahead to a local history group will give you some ideas on what's on in the area, especially if such events are of an historical nature. It may be something as simple as a cemetery tour, a heritage site tour, an open day or even a local festival. Anzac Day is a popular date to keep in mind also, as events usually centre around local heroes. Attending the dawn service is free and patriotic, and a great way to pay your respects. Check with the local RSL for more information as sometimes it is possible to lay a family wreath at a cenotaph during or after the service.
Ask the locals. Don't hesitate to stop at a local shop to ask about possible things to see in the area or directions to places your ancestors may have once walked. Things may have changed markedly since their day but it's often surprising what remains intact or locally preserved.
Above all, take photos, lots of photos and record your visit. Pass those stories to the future generations and keep your family history alive.